Tongue Mount Air Hitch SH-400-C
SH-400-C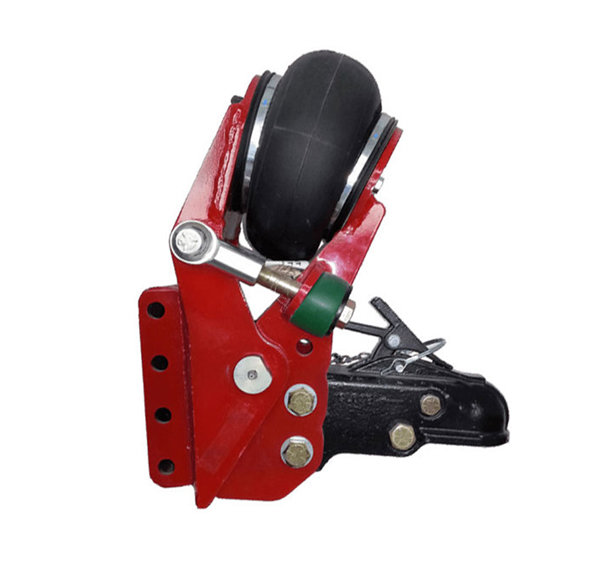 .
The Best of Both Worlds - Equalizer Bars and Air Ride (may also be used without equalizer bars).
Reduce Trailer Fatigue - Great for heavy trucks with stiff suspension.
Maximum Ground Clearance - Airbag is mounted above the tongue.
Simple Installation - Three basic styles to fit the majority of trailers.
Question
Why is the air hitch mounted on the trailer?

Answer
In order for the air hitch to work, the equalizer/ weight distribution bars must compress into the airbag. If the air hitch is mounted on the truck, the bars would unload the airbag. Thus, it is our contention that air hitches used with equalizer bars must be mounted to the trailer.

Vertical Channel SH-400-C

Commonly found on flatbed trailers
Simply bolts in place of existing coupler
Excellent for contractors
Weld on channel adapter available - convert a trailer or when building a new trailer
Rated to 12,000 lbs towing capacity
3 inch wide channel
Available with all coupler or pintle ring
Square Plate
Found on many trailers
Simply bolts in place of existing coupler
4" square bolt pattern
Cast 2 5/16" coupler included
Rated to 12,000 lbs towing capacity
Available with all coupler or pintle ring
A-Frame Adapter
Locks on trailer coupler found on most campers
No welding or drilling required
Hitch extends front of trailer approximately 11", safety chains may require lengthening
10,000 lb weight rating. Do not exceed weight rating on trailer coupler
Please note - when ordering, specify which coupler your trailer has, P/N and brand, or a picture will work. Propane tanks may have to be moved back to hook up bars on some campers.

Setup Instructions